Home-based primary care (HBPC) represents the future of medical service delivery, especially in a world that values convenience and personalized care.
The Senior Soup delves deep into understanding this revolutionary approach and its implications for the American healthcare system.
In this comprehensive guide, The Senior Soup will cover the following topics:
Understanding the concept of in-home primary healthcare within our healthcare system;
The value that in-home primary healthcare brings to older adults;
The range of at-home primary care services;
The benefits of home-based primary care services;
The enrollment process;
Factors to consider while opting for a credible and proficient in-home primary care provider;
The Veterans Administration's HBPC model;
The prospects of mobile healthcare.
What is Home-Based Primary Care?
Home-based primary care (HBPC) is a healthcare delivery model that provides a full continuum of medical services inside a patient's home.
In-home primary care is particularly beneficial for chronically ill older adults and adults with disabilities who have difficulty traveling to a traditional brick-and-mortar doctor's office.
Mobile primary care is gaining traction as a convenient, patient-centered healthcare solution in today's fast-paced world, bringing healthcare professionals to patients' homes rather than requiring patients to visit traditional outpatient medical offices.
Bottom line: Home-based primary care does not require office visits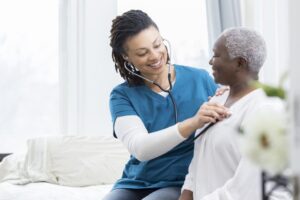 A General Overview of Primary Care 
The phrase "primary care" is not unfamiliar to most of us.
At its core, primary care is our initial line of defense in healthcare, serving as the gateway into our healthcare system.
Let's break it down even further.
Primary care represents the initial point of contact in our healthcare system when we are unwell or when our yearly check-up or physical examination is due.
An interdisciplinary team of health professionals typically oversee our primary care, including:
General practitioners;
Internal medicine specialists;
Physicians;
Pediatricians;
Nurse practitioners;
Physician assistants;
Registered nurses;
And medical assistants.
Primary Care Goes Far Beyond Just Being Sick
Our primary care providers help maintain our overall health in the long term; it's not just a healthcare option for when we're sick.
It isn't solely about treating illnesses like the flu or managing chronic conditions such as diabetes, COPD, or hypertension; it's also about preventive care, which involves vaccinations, health screenings, and health education.
Commonly, behavioral health counseling or mental health services are included.
Moreover, primary care is about managing and coordinating our healthcare; our primary care providers can refer us to medical specialists or even a hospital if we need more complex medical care or support.
Think of primary care as the headquarters of our healthcare; it's where our health journey often begins and where our medical records are maintained.
Primary Care Providers (PCPs)
You've probably asked, "Why do I need a primary care doctor?" at least once.
That's a fair question.
Our primary care providers familiarize themselves with our medical histories, lifestyles, and unique health risks and needs. We want to create a long-term relationship with a healthcare provider who can, in turn, provide us with informed advice and comprehensive, continuous care.
They discuss the potential health risks of our lifestyle and often bring the latest healthcare research to the table when talking about long-term health outcomes, objectives, and preventive services.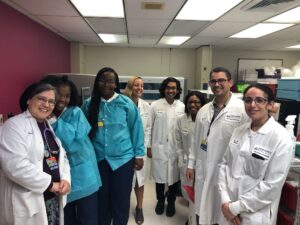 A PCP and their interdisciplinary team often serve as our go-to medical guides in our healthcare system.
They help us navigate the complexities of our healthcare system and can refer us to medical specialists, manage our prescription medication, order blood work and labs, and so much more.
Primary care doesn't just focus on our physical health; it also considers our emotional, physical, and cognitive function and mental well-being.
So whether we are feeling under the weather, managing a long-term illness, or just wanting to stay on top of our health affairs, primary care is our first stop on our journey to total wellness.
The Benefits of Home-Based Primary Care
Personalized Care: HBPC tailors treatment to individual patient needs in their comfort zones.
Reduction in Hospitalizations & Readmissions: Patients receiving HBPC often experience fewer emergency room visits or visits to a medical office.
Cost Efficiency: Doctor house call programs can lead to significant healthcare cost savings, especially for older adults suffering from complex medical conditions and severely disabled patients.
Improved Satisfaction & Quality of Life: Patients typically report higher satisfaction levels with in-home primary care and a better quality of life overall.
Familiar Environment: Treatment in a familiar setting reduces stress and anxiety among patients.
Holistic Approach: HBPC offers comprehensive care, considering both medical and environmental factors.
It's Convenient: Patients can avoid transportation issues and long waiting times. Home-based primary care doesn't require visits to an office-based provider.Those enrolled in HBPC programs can avoid the stress and disruptions often associated with hospitals, skilled rehabilitation centers, and burdensome office visits.
Enhanced Medication Management: In-home observation ensures adherence and monitoring.
Safety: Patients enrolled in HBPC programs are less likely to be exposed to hospital-borne infections.
Continuous Monitoring: Regular clinical visits to a patient's home allow for timely detection and intervention, especially for older adult patients with one or more chronic illnesses.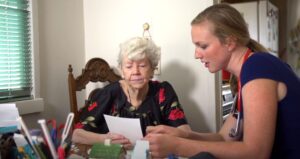 Who Can Benefit from Home-Based Primary Care?
Older adults: As we age, mobility can become challenging. HBPC ensures that older adults can receive regular health checks and medical attention as required.
Disabled patients: HBPC offers disabled individuals personalized healthcare within their familiar environments, eliminating transportation challenges and ensuring patients safer, consistent, and tailored medical care.
Individuals with Chronic Conditions: Routine home-based primary care (HBPC) visits and regular in-home check-ups ensure chronically ill patients receive effective disease management and timely interventions.
Bedbound patients: HBPC ensures that individuals confined to their beds continue to receive consistent, comprehensive medical care, combined with a variety of other skilled services, without the complications of transportation or regular hospital visits.
Individuals in a Post-Acute Transitional Phase: In-home primary care, combined with other skilled services, facilitates a smoother transition from hospital to home, ensuring continuity of care and reducing the risk of hospital or skilled nursing facility readmissions and other medical complications.
Individuals with Mental Health Concerns or Severe Mental Illnesses: Home-based primary care provides individuals experiencing serious mental illnesses with specialized and integrated behavioral services within a familiar and non-threatening environment they may otherwise experience during routine clinic-based care appointments.
Individuals with Functional and Cognitive Decline: At-home primary care delivers tailored healthcare services to individuals experiencing cognitive decline, dementia, and Alzheimer's, ensuring patients receive consistent support while minimizing environmental disruptions and stress.
How Does In-Home Primary Care Work?
Home-based primary care is not a one-size-fits-all template; it's a systematic approach tailored for each patient.
Below is a general overview of how home-based primary care works:
Initial Evaluation: The first step often involves a thorough health evaluation by a physician, nurse practitioner, or physician assistant to understand a patient's medical history and current needs.
Routine Visits: A care plan is crafted based on the initial assessment, and subsequent home visits are scheduled. These visits are flexible, keeping in mind the patient's convenience.
Telehealth Integration: With technological advances, many providers incorporate telehealth, ensuring patients and family caregivers remain connected, even from a distance.
Emergency Protocols: Each HBPC provider will establish clear protocols for emergencies, ensuring patient safety at all times.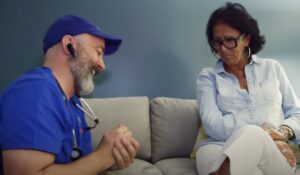 What Services Are Offered Through Home-Based Primary Care?
Many mobile primary care practices – Ennoble Care, for example – offer patients a full continuum of care services.
Medical Risk Assessments & Routine Examinations: Home-based primary care clinicians will conduct thorough medical assessments and examinations similar to those performed in traditional healthcare settings, including but not limited to:
Taking a patient's vital signs;
Evaluating disease symptoms;
Diagnosing and treating acute illnesses;
Ordering diagnostic testing;
Coordination with home health services and other skilled services, including physical, occupational, and speech therapy;
Medical equipment placement;
Blood work and mobile X-ray services.
Medication Management: This is a crucial aspect of home-based.
Clinicians ensure patients receive the appropriate medications, monitor their effectiveness, and evaluate potential side effects.
Chronic Disease Management: Many older adults suffer from two or more chronic conditions.
HBPC offers patients personalized care plans, continuous monitoring of disease progression, and education on self-management techniques.
Palliative Care: Palliative care focuses on enhancing quality of life and symptom management for complex illnesses.
Chronically ill older adults with complex medical needs who aren't quite ready for hospice care are typically ideal candidates for palliative care.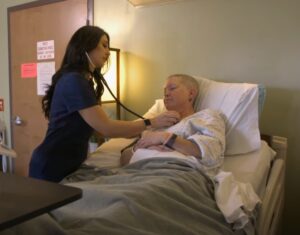 Enrolling in Home-Based Primary Care
The Senior Soup will walk you through a typical home-based primary care enrollment process.
We'll use Ennoble Care's seamless enrollment process as our example.
Ennoble Care is the East Coast's premier home-based primary care practice that prioritizes the well-being and comfort of older adults and adults with disabilities, empowering them to age in place while maintaining their dignity and quality of life.
Research & Verify
Before diving into the enrollment process, it's essential to identify and confirm the legitimacy of a mobile primary care practice.
Visit Trusted Online Directories: Start your search by visiting reputable online directories that list certified medical professionals and services.
Check Reviews and Testimonials: Review sites like Healthgrades and RateMDscan provide insights into patient experiences.
Seek Recommendations: Ask friends, family, or your current primary care provider if they can recommend any trusted home-based primary care services.
Initiate Contact With The Practice or Healthcare System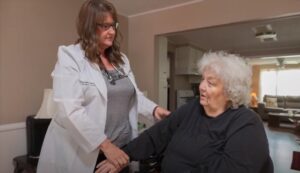 Once you've identified potential providers or health systems that provide home-based primary care, you'll initiate contact to better understand its healthcare services and offerings.
Phone or email inquiry: Contact the chosen provider to discuss your needs and their services.
Request brochures or informational packets: These materials can provide a more in-depth look at a home-based primary care practice's services, qualifications, and patient care philosophy.
Click the link below to review Ennoble Care's 2023 program services guide.
Ennoble Care Program Services Guide [2023]
Health Insurance Acceptance
Next, you want to determine if the practice accepts your health insurance plan. Most home-based primary care practices take health insurance.
Ennoble Care's Maryland practice accepts a healthy list of patient health insurance plans, including:
Collecting Patient Demographics
A home-based primary care practice will request your demographic information to begin their enrollment process, including:
Full legal name;
Date of birth;
Social Security Number;
Home address;
Phone number(s);
Email address;
Primary health insurance and policy numbers;
Secondary health insurance and policy numbers;
Emergency contacts.
Many house call practices simplify enrollment by directing you to their website to complete an online enrollment form or a secure Google Form.
A patient onboarding specialist will verify your health insurance and walk you through the next steps of the enrollment process.
Remember that some house call practices may request copies of your medical records from your current or previous primary care provider.
You'll have to give your new home-based primary care practice permission to contact your previous practice to collect your medical records.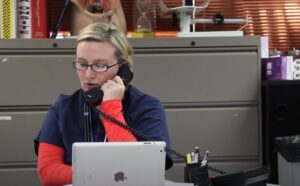 For more information about collecting your medical records from your current doctor when switching from office-based medicine to home-based primary care, please read The Senior Soup's comprehensive guide on "How To Break Up With Your Doctor."
Patient Consent
You're almost through the enrollment process!
Next, the HBPC practice will ask you to sign their patient consent form.
Many practices now allow patients to complete consent electronically, but you may wish to sign a hard copy of the consent form.
Review the form carefully and ask questions about what you're signing if it's unclear.
Patient consent is a formal acknowledgment from you, the patient, indicating that you understand and agree to the proposed medical procedures, treatment plans, or interventions that your clinician may carry out, ensuring the following:
You are making informed decisions about your care;
You have complete control over what happens to your body while under the practice's care;
You have been adequately informed of your medical care's benefits, risks, and alternatives.
Conversely, your consent to treatment serves as a protective measure for healthcare practitioners.
By documenting that you have been informed of your rights and responsibilities as a patient and agree to your clinician's care plan, the healthcare practice minimizes potential legal risks.
Scheduling Your First Home-Based Primary Care Appointment
Now comes the fun part!
After verifying your health insurance and signing patient consent, the doctor house calls practice will work with you to schedule your first in-home clinical appointment with your new primary care provider.
Home-based primary care practices (e.g., Ennoble Care) typically aim to see their patients every four to six weeks.
However, the frequency of primary care provider visits can always be adjusted based on your specific health conditions and healthcare needs.
The Role & Impact of Home-Based Primary Care in Today's Health Care Landscape
Our U.S. healthcare system is a complex network of organizations, facilities, and all healthcare providers involved in delivering medical care to the community.
This multifaceted system plays a vital role in our population's overall health and well-being, ensuring we receive appropriate and timely care when needed.
Home-based primary care has emerged within this ecosystem as a vital segment of medical services that support patients at home, alleviating the stress of hospital and doctors' office visits for those with limited mobility and catering to patients who prefer primary care services within their homes.
Moreover, home-based primary care programs can reduce unnecessary visits to hospital emergency departments and visits to other urgent healthcare facilities.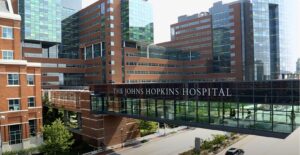 The physician house call programs model can enhance the patient's overall healthcare experience by incorporating a patient-centered approach.
Health Care Reform Efforts
Healthcare reform efforts are a continuous drive to enhance the efficiency, effectiveness, and accessibility of the healthcare system.
These reform efforts involve the following to ensure our healthcare system is more affordable, equitable, and patient-centric:
Policy changes;
Technological advancements;
Innovative care models;
Home-based primary care is an innovative and evolving response to all these benefits and reform efforts. This model has the potential to not only improve health outcomes but also significantly reduce overall healthcare costs.
These can range from individual providers to large-scale hospital systems, and their organization and functioning directly impact the quality and accessibility of health care.
They're leveraging technology to monitor patients' health conditions and increase patient satisfaction while providing treatments.
The integration of this model allows health systems to extend their reach, offering comprehensive care that aligns with the principles of modern, patient-centered health care.
Health Care Delivery Organizations
Healthcare delivery organizations are components of the healthcare system responsible for providing medical services to patients.
They include:
Hospitals
Clinics
Outpatient care centers.
These organizations are at the forefront of transforming healthcare, emphasizing the shift towards a more patient-centric, accessible, and efficient healthcare system.
HBPC and The Veterans Administration

The U.S. Department of Veterans Affairs (VA) has implemented a well-known home-based primary care (HBPC) model worth exploring.
The program has collected valuable data on their impacts on health and cost outcomes, particularly for individuals with complex health and social needs.
Here are some key insights from their findings:
Improved Outcomes
The VA has found that the HBPC improves health outcomes for veterans with complex health and social needs.
By receiving care in the comfort of their homes, healthcare providers help their patients manage their conditions better, adhere to prescribed treatments, and engage more proactively with their healthcare providers.
Furthermore, patients receiving HBPC showed improved mental health.
Cost-Effectiveness
Research has also indicated that HBPC models can be cost-effective.
Although the per-patient cost of HBPC might be higher due to the need for home visits and comprehensive services, these costs are often offset by reductions in more expensive forms of care.
By managing patients' health more effectively at home, the VA has seen significant reductions in hospital admissions, lengths of hospital stays, and hospital readmissions.
Moreover, the VA found that HBPC models can be particularly cost-effective for high-need, high-cost patients who frequently utilize hospital services. For these individuals, it improves their health and reduces overall healthcare costs.
Promotion of Aging in Place
The HBPC model promotes aging in place, which aligns with the preferences of many older veterans who wish to stay in their homes as long as possible.
The VA medical centers found that using HBPC programs can delay or prevent the need for institutional care, such as nursing homes, thereby respecting veterans' desires to remain at home while reducing costs associated with institutional care.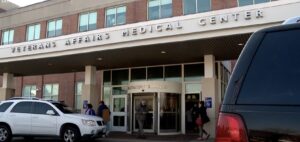 A high-quality primary care model enacted by the VA demonstrates its potential to improve health outcomes, reduce healthcare costs, enhance patient satisfaction, and enable aging in place for individuals with complex health and social needs.
These findings provide valuable insights for health systems and policymakers seeking to optimize care for this vulnerable population.
Embracing the Future of Home-Based Primary Care 
In an era where personalized and convenient care is more than a luxury but a necessity, home-based primary care stands as a beacon of patient-centered innovation.
Through this comprehensive guide, The Senior Soup has provided a thorough understanding of the significance and operation of HBPC within our vast healthcare landscape.
As we evolve in healthcare, embracing mobile primary care models ensures that every individual, regardless of age, physical ability, or condition, experiences dignified, efficient, and holistic care within the comfort of their homes.
Technological advancements, such as remote monitoring devices, telehealth platforms, and electronic health records, are increasingly integrated into home-based care.
And it will only get better from here!
The future of home-based primary care looks promising!
Ryan Miner, MBA | Co-Founder and Podcast Host | The Senior Soup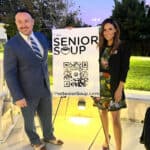 Ryan Miner and Raquel Micit are the co-founders of The Senior Soup and host The Senior Soup Post. Raquel and Ryan have over 25 years of combined experience in the healthcare, medical and pharmaceutical industries.