A skilled nursing facility isn't scary!
In fact, skilled nursing facilities are essential functions within our healthcare system.
They help you get better!
Maryland Vita Healthcare Group Regional Director of Admissions Greg Strite joins The Senior Soup Podcast.
We discuss the following topics:
When would you need to visit a skilled nursing facility?
What insurances cover skilled nursing?
Does Medicare cover skilled nursing?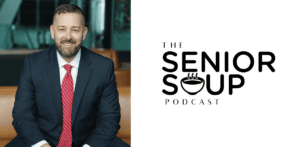 SKILLED NURSING DURING COVID-19
Greg also spoke about the challenges COVID-19 posed to skilled nursing and how Vita Healthcare Group rose to the occasion during a turbulent time worldwide.
This podcast was recorded at Vita Healthcare Group's Layhill Nursing and Rehabilitation Center, just outside Silver Spring, Maryland.
ABOUT THE SENIOR SOUP
The Senior Soup aims to connect aging adults and their loved ones with an abundance of aging-specific resources, including senior services professionals, healthcare experts, and community organizations.
ABOUT RAQUEL MICIT
Raquel Micit is the owner and president of Amada Senior Care in Montgomery County, Maryland.
ABOUT RYAN MINER
Ryan Miner is a healthcare marketer for Ennoble Care, a premier provider of in-home mobile primary care in the DMV and select regions along the East Coast.